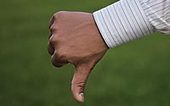 The Top 100 corporate brands experienced a general decline in 2012 favorability scores, according to CoreBrand, a brand consultancy and creator of the Corporate Branding Index.
The company, which provides benchmarking data, insights and corporate brand valuation for more than 1,000 companies across 54 industries, on Wednesday released its Sixth Annual Top 100 BrandPower Rankings Report, which ranks 100 corporate brands in terms of market reputation and awareness.
Favorability scores measure overall reputation, perception of management and investment potential. The decline indicates that in the current economic climate, consumers are evaluating corporate brands more harshly, and these brand criticisms are being amplified with the proliferation of social media and the 24-hour news cycles, says James R. Gregory, founder and CEO of CoreBrand.
"Now more than ever, it is important that companies improve the quality of their messages to the marketplace and focus on rebuilding trust, according to the company," he says....