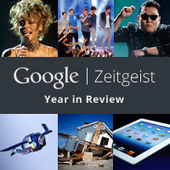 We studied an aggregation of over one trillion searches (or queries) that people typed into Google Search this year. We used data from multiple sources, including Google Trends and internal data tools. We filtered out spam and repeat queries to build lists that best reflect the spirit of 2012.
The "trending" queries are the searches that had the highest amount of traffic over a sustained period in 2012 as compared to 2011.
The "most searched" queries are the most popular terms for 2012—ranked in order of the queries with the largest volume of searches.
Via
Ken Dickens