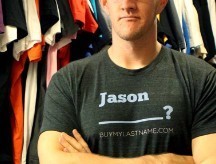 Jason Sadler, a 30-year-old entrepreneur, is auctioning off rights to his last name for one year so that he can can raise money to invest in his IWearYourShirt startup.
Sadler, who lives in Jacksonville, Fla., makes a living wearing T-shirts. For a fee, Sadler will wear a sponsored T-shirt featuring a company's logo for a full day or an entire week. He calls his company IWearYourShirt and, of course, uses social media to get the word out about his latest clients.

But like any small-business person, he needs capital.

Which leads to his latest idea: He is holding an online auction and will legally change his last name to the name of any company that makes the highest bid....
[$250K in revenue, ingenuity, lots of buzz. Top bid is $34.5K so far. Successful or stupid? Comments alone are worth reading. ~ Jeff]