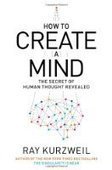 By the 2030s or 2040s, inventor and futurist Ray Kurzweil envisions micro-computers embedded non-invasively in the brain that will act as an interface...
...to a "cloud" of storage and processing power.
Inventor and futurist Ray Kurzweil remains coolly confident in his prediction that by the 2030s, blood-cell sized computers will integrate with the human brain and dramatically expand its cognitive capacity well beyond the neocortex's paltry 300 million or so pattern recognizers.
And why shouldn't Kurzweil be confident? By his count, he's been right about 86 percent of the time, and that's not counting near-misses like predicting we'd all be riding in self-driving cars by now.
Advancing technology's capacity to mimic, and eventually deeply integrate with, the human brain was one of the central topics of a public Q&A Kurzweil participated in last night in Louisville, KY as part of a promotional tour for his new book, How to Create a Mind: The Secret of Human Thought Revealed. The new book draws on his deep knowledge of language and cognitive hierarchy to predict how computers will continue to expand humans' ability to store and relate information in what we call "intelligence."
[Ouch. Reading this makes my head hurt. In a good way. ~ Jeff]