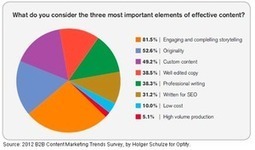 Storytelling, storytelling, and more storytelling.
Seems like every marketing book, blog (including mine if you've been reading this week's posts) and study is talking about how we should be using storytelling as a marketing technique.

I couldn't agree more. Unfortunately, I think most attempts fall short.
Earlier this week — I made the point that A) It seems that despite all the hype — we're doing less real storytelling today and B) storytelling is hardly a new tactic....
[Good suggestions for storytelling that works ~ Jeff]