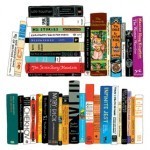 Reverse-engineering identity through the love of books.
In 2007, artist and illustrator Jane Mount began painting "portraits of people through the spines of their books" — those aspirational bookshelves we all hold in our heads (and, ideally, on our walls), full of all the books that helped us discover and rediscover who we are, what we stand for, and what we'd like to become.
A kind of book spine poetry of identity. In 2010, she paired with Paris Review writer Thessaly La Force and the two asked more than a hundred of today's most exciting creators — writers, artists, designers, critics, filmmakers, chefs, architects — what those favorite, timeless books were for them. Thus, My Ideal Bookshelf * (public library) was born — a magnificent collection of Mount's illustrated "portraits" of these modern-day icons, alongside short essays by each contributor explaining why the books included are meaningful to him or her.
Besides the sheer voyeuristic pleasure of peeking inside the personal libraries of great minds, the project is at once a celebration of bibliophilia and a testament to the fact that the most interesting people are woven of incredibly eclectic influences....
[Wonderfully creative ~ Jeff]