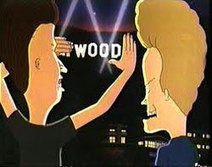 NEW YORK, Nov. 16, 2012 — In the news release, Chart-Topping Songstress, Rihanna, Takes It All Off With New Scent, issued 16-Nov-2012 by Parlux Ltd. over PR Newswire, we are advised by the company that the first paragraph, first sentence, should read "...Nude by Rihanna, on Black Friday at Macy's" rather than "...Nude by Rihanna, this November 2012" as originally issued inadvertently.
Good. Glad we cleared that up.
Meanwhile, "chart-topping songstress"? I understand her ditties are the bee's knees, penned by Tin Pan Alley's finest. But is this 2012 or 1922?
Let's join Beavis and Butthead and read some more of the press release....
[PR sillies... ~ Jeff]