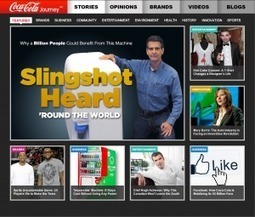 Coca-Cola have made the transition to brand journalism, using its corporate site as a digital magazine...
Journalism is currently going through a transition. As this transition takes place, advertising revenue has dropped off, PR has gone up and 'churnalism' has become a worrying issue of newsrooms.
But why would corporations go through all the hassle of press releases or creating stories for their products when they could just do it themselves? After all, according to Harry Evans, news is "something someone somewhere doesn't want you to hear".
Three days ago, Coca-Cola took the first step into the world of brand journalism. It has completely overhauled its corporate site, rebranded and repackaged it as a digital magazine, Coca-Cola Journey. This will allow it to produce 'news' to its own agenda.
Ashley Brown, director of digital communications and social media at Coca-Cola, said: "Our corporate site is our most trafficked online property, so we wanted to create an experience that would make this incredibly valuable digital real estate work harder for us.
"We want to make sure that as our brand becomes a publisher, we do so in the most beautiful and functional way possible."...
[Journalism? Meet brand journalism.]