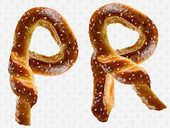 PR lesson from Auntie Anne's...
A great deal of what I know about PR, I learned from Auntie Anne. The pretzel queen. A former Amish woman turned entrepreneur, who, in the 1990s retained my firm to promote her burgeoning franchise empire of hand-rolled soft pretzel stores.
It wasn't an easy assignment, convincing someone who had been taught all of their life to avoid attention that she had to interview with Forbes magazine or do lunches with Inc. reporters. But if anything, Anne was a pragmatist who understood the value of her own story. And this was a great one.
Born to an Amish family, she chose not to enter the faith, married early, and struggled financially. While running a food stall at a local farmer's market, her husband mixed up a flour order for her pretzel recipe. The screw up resulted in the best pretzel she had ever tasted. Lines formed around the corner, and soon prospective franchisees were beating down her door to buy in. She called it an act of God. Me? Well, I too know the value of a good story, regardless of whether the intervention is divine....
[A story about the value of storytelling toPR and marketing ~ Jeff]