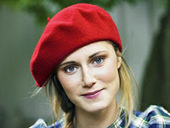 Had a brief conversation with Brian Yanish (@MartingHits) this morning via comments and spent the day trying to figure out the implications of a single thought:

Data (the content we create and curate) is the NETWORK now.

We've moved so far from Sun MicroSystems The Computer Is the Network. Heck we have the equivalent of the most powerful Sun MicroSystem in our pockets now. This thought created many implications such as:

* My post becomes OUR post.
* The Data Is The Network.
* Move from creator to curator and back again.
* We wait for The Great Data Pumpkin.
* We are all publishers now.

Had a fun day thanks to Brian. Hope you have fun reading about why we are all rebel disruptors now. Put on your beret, raise your fist and see if you agree the data is the network.

Here is to the rebel disruptors in all of us!
[Thoughtful post from Margty Smith about how MY becomes OURS~ Jeff]
Via
Martin (Marty) Smith