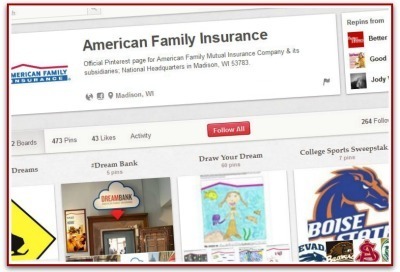 American Family Insurance took about a month to decide whether the image-centric site was the right place for it on social media. Now, the company's figuring out what works best there.
It makes a lot of sense to always link social media with immediacy. After all, it just takes one click to send a message or a photo to the world. But American Family Insurance doesn't think about it in terms of lightning speed. It's looking for lasting connections.

For example, the company's social media team of eight people took about 30 days to determine whether Pinterest, which has grown by a factor of more than 20 over the past year, was a good place for the company to branch out on social media.
"We think there's a long-term opportunity here, or else we wouldn't have gotten into it," says Michele Wingate, American Family's social media manager.
The company is taking its time on the site, building up a presence organically before really kicking into high gear with messaging next year. The fact that it has 17 social media presences, reports Andy Sernovitz on SmartBlog on Social Media, while other companies maintain dozens, is even more of a motivation....
[Interesting to see the payback over time ~ Jeff]