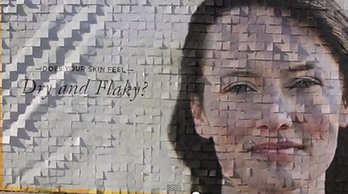 While Burt's Bees has been busily expanding its skincare products over the last several years, it knew it had a winner with its new Intense Hydration line. Formulated with Clary sage, an herb that thrives on windswept Mediterranean hills, the product's early tests had women in their 30s and 40s enthusiastic about its effectiveness.
"We felt really excited about the product experience, and wanted that to be the root of all the marketing," Brian Berklich, the company's senior marketing manager, tells Marketing Daily. "So we created an event that would flip the typical before-and-after images on their head."
Before dawn on a Saturday, the company set up a billboard at a busy Minneapolis farmers market, showing a woman with dry, flaky skin.
Each flake was actually a $3 off coupon -- 1,300 in all -- to encourage trial of the product. By the end of the day, passersby had yanked off enough coupons to reveal the smooth skin of the billboard model, and the company had a compelling time-lapse video....
[Very creative marketing, multimedia ~ Jeff]