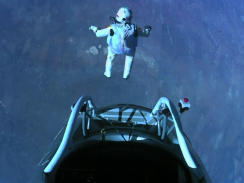 Highest-ever skydive (24 miles up) made Felix Baumgartner first to break sound barrier, officials say; Max speed about 834 mph...
...Baumgartner says that traveling faster than sound is "hard to describe because you don't feel it." With no reference points, "you don't know how fast you travel," he told reporters.
"Sometimes we have to get really high to see how small we are," he said....
As he exited his capsule from high above Earth, he flashed a thumbs-up sign, well aware that the feat was being shown on a live-stream on the Internet....
As Baumgartner ascended in the balloon, so did the number of viewers watching on YouTube. Nearly 7.3 million watched as he sat on the edge of the capsule moments before jumping. After he landed, Red Bull posted a picture of Baumgartner on his knees on the ground to Facebook, generating nearly 216,000 likes, 10,000 comments and more than 29,000 shares in less than 40 minutes.
On Twitter, half the worldwide trending topics had something to do with the jump, pushing past seven NFL football games.
Among the tweets was one from NASA: "Congratulations to Felix Baumgartner and RedBull Stratos on record-breaking leap from the edge of space!"
[I think this is a landmark social news event ~ Jeff]