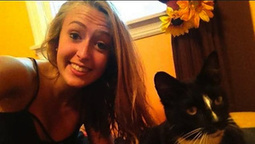 PR Stunts: Runaway Teen Tweets Fake Kidnapping (#helpfindkara)...
Another day, another example of social media's power to magnify the effects of bad behavior: Last night, New Jersey teenager Kara Alongi tweeted that there was someone in her house and urged followers to call 911.
Twitter quickly exploded with messages of support as Kara's call for help went viral and #helpfindkara began trending worldwide; at last count the message has been re-tweeted more than 32,000 times, and the local police department has supposedly received more than 6,000 calls about the case. Because Alongi left her cell phone in the house, she can't yet appreciate the fact that she now has nearly 100,000 followers....
Police now say that they have no reason to believe that the teen "is in any physical danger", and based on her Twitter history, we're more concerned about her mental and emotional health.
While we hope that Alongi returns home safely, and we hesitate to make light of a serious issue, we believe this story to be a very telling illustration of the power of social media and the fact that Twitter is not something to be taken lightly....
[File this in the stupid social media tricks file ~ Jeff]