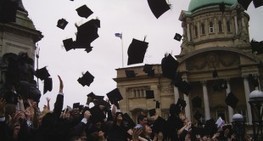 Journalism schools need to take better advantage of the rest of their universities, teaching students to engage with scholarship.
...Anyone who's been to j-school remembers the initial jitters — and the bundle of nerves — that came with heading out on assignments and to beats unknown in those dizzying first months.
Journalism schools have generally been good at steadying those nerves, giving students the confidence to explore new neighborhoods and challenging issues, and to ask tough questions. Throw in some sharpened writing skills and storytelling techniques, and we walked out with that traditional toolkit ready to go in the old media world.
But in a wired age, where knowledge on all topics is accumulating and proliferating, a new kind of fear should be persistent for journalists: Not knowing what you're talking about. Or put more practically, not doing your research. There is little excuse these days for being uninformed and caught unaware. Expectations are being raised all around us....
[PR faces similar issues ~ Jeff]