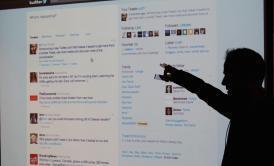 Twitter cofounder and board member Ev Williams on Monday suggested that the microblogging site de-emphasize users' follower counts in favor of some better algorithm for measuring their influence, according to Buzzfeed.
"The thing I think would be more interesting than followers is... retweets," Williams said, adding that a simple follower count "doesn't capture your distribution." He went on: "The dream metric is how many people saw your tweet."
But why stop there? After all, people might see your tweet and ignore it. Or they might see one tweet but not the next, because they don't follow you. Or they might be influenced when you tweet about one thing but ignore you when you tweet about something else. What Twitter is really after, as it tries to woo advertisers, is a way to objectively measure users' true influence on the site. Unfortunately, that leads to a game of whack-a-mole. Every time you try to measure one thing, something else pops up that you're not adequately measuring.
Take the example of Klout, a startup that was already trying to do what Twitter might try to do now. After working for more than two years to try to get a bead on people's online influence via Twitter, then Twitter and Facebook, then Twitter and Facebook and Google+, it remained dissatisfied that Justin Bieber outranked President Obama. So it began trying to incorporate offline influence into its ratings as well, drawing on sites like Wikipedia and LinkedIn as proxies for real-world stature....
[Trying to read the tea leaves of online influence - JD]