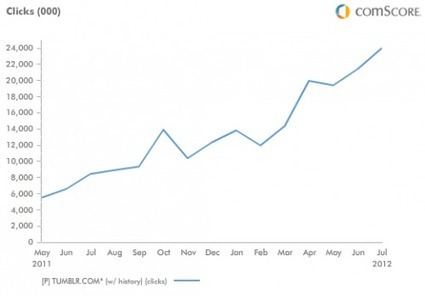 Has Tumblr become a part of your corporate publishing strategy? At one point, as Twitter and Facebook took off, it seemed that this "blog-network" platform (my term for something that isn't as full-featured as WordPress or other software but definitely more feature-filled than a true social network) was going to be overshadowed by those ascendant networks.
But in the last year or so Tumblr has staged a remarkable comeback, despite – maybe even because of – a handful of direct competitors that sought to fill the "just let me post something quickly to my friends" space.

comScore recently released a study showing total unique visitors to Tumblr.com have grown significantly in the last year while the growth on mobile, which is a big way people consume and interact with those they follow, has grown even more sharply. And the number of clicks to Tumblr sites that are happening through search is even greater....
[Integrating Tumblr into your social media strategies can pay off - JD]