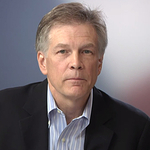 What's the most dramatic change you've seen in your 25 years at the Times?
I definitely think the transition to digital — it's enormous, it's ongoing. Change is hard. Dealing with disruptive technologies left and right requires a lot of energy, a lot of imagination. And every institution like ours deals with it. Just as we've mastered the Web, we then are faced with a completely new environment in which people are getting information on their phones. Tablets are now creating their own different types of use cases and consumption. Social media came out of nowhere. If you and I had this conversation four years ago, we wouldn't be talking about Twitter. Maybe we'd be talking about smart phones, but we wouldn't talking about tablets. The pace of change gets faster and faster. The disruptions come more quickly. So it's tough, but it's been also really gratifying to watch an institution that's big and based in tradition. It's been gratifying to be part of the adaptation process.
Social remains a challenge, in a lot of ways. I don't even know how to describe social. It's a way of life. It's more than software. But it's evolving everyday. People are getting information through it everyday. It's incredibly flexible. It means we have to be incredibly flexible to keep up. That's going to remain a challenge. Everything mobile remains a challenge for us. I see traffic patterns and how our audience, they're not abandoning our website, but they're spending more and more time on smartphones and tablets. And the other challenge for us is video. I want us to get better at video. We've got to master live coverage, and be able to do it in a more nimble fashion....