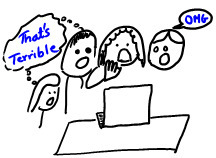 Samsung cancels blogger's airplane ticket on press trip for refusing to write about brand.
...I think the correct place to begin is in understanding and acknowledging that this is a public relations disaster. Samsung and it's agency were clearly not geared to handle this. The story has become quite popular and Samsung's competitor Nokia has definitely gained some good PR due to this, by helping the stranded blogger. As you'll learn thru this article, Samsung isn't a stranger to such a debacle. This isn't the first time Samsung has trended up the social media channels for the wrong reasons.

The rest of the post is dedicated to answering two questions:
1. How could this Public Relations nightmare been handled better?
2. How can one avoid such a Public Relations nightmare?...
[This PR fail was easily avoided. Unfortunately, Samsung didn't get it - JD]