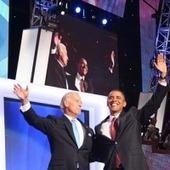 I challenge every journalist in Tampa for the Republican convention — every one of the 15-16,000 of you — to answer this:
* Why are you there?
* What will we learn from you?
* What actual reporting can you possibly do that delivers anything of value more than the infomercial — light on the info, heavy on the 'mercial — that the conventions have become?
* Would you be better off back at home covering voters and their issues?
* Can we in the strapped news business afford this luxury?
Figure that those 15k journos spend $300 a night each on a hotel room times five nights, plus $500 for transportion. That's $2,000. And I'm figuring they'll be slurping up free meals and drinks. So $2,000 is probably (pardon me) conservative. That's $30,000,000. Now multiply that times two conventions. That's $60,000,000.
Why? For what?...
[What a great question by Jeff Jarvis! - JD]