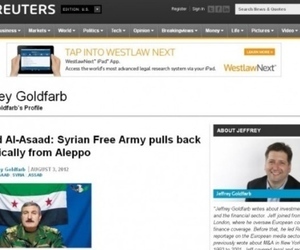 In May of last year, PBS reported online that "prominent rapper Tupac has been found alive and well in a small resort in New Zealand." The U.K.-based The Sun devoted its front page in July to a report that media mogul Rupert Murdoch had died from a suicidal drug overdose. The same month, Fox News Politics tweeted that President Barack Obama had been assassinated; not long after, NBC News's Twitter account reported that two flights had been hijacked and were headed for Ground Zero. These morbid stories were all fake, of course, planted by mischievous hackers seeking infamy and amusement.
THE REUTERS HACKTIVISTS WANTED THEIR FAKE STORIES TO BE TAKEN AS FACT
But the hackers who planted fake news stories on Reuters's website earlier this month weren't doing it for fun. Reuters was caught in the middle of an "intensifying conflict in cyberspace between supporters and opponents of Syrian President Bashar al-Assad," in the words of one of its reporters, as hackers attempted to co-opt the news agency's credibility in order to support government forces in the Syrian national conflict.
...In the past, it would take a mammoth effort to print and distribute a fake version of say, The Guardian, and hardly worth the time. That's not the case online. Imagine squinting at each news story on guardian.co.uk and wondering if it was written by a journalist or an imposter. The news industry could set itself up for a massive credibility loss by ignoring the threat from hackers, and once again sabotage itself by underestimating the disruptive power of the internet.