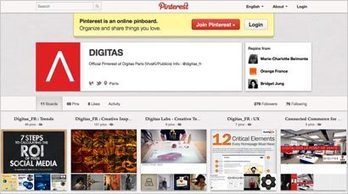 Pinterest may be the darling of the social media world, but it has not been widely embraced by agencies. A new survey by the Creative Group finds that only 7% of advertising and marketing executives said their firms are using the visual social network for business purposes and 44% have no interest in adopting Pinterest.
Another 18% had never heard of the site, and 17% said it caught their eye but they were hesitant about using it for work. Just 10% said they planned to start using Pinterest as a business-related tool. Staff at larger agencies were more likely than those at smaller agencies or companies to be on Pinterest. Among those with more than 100 employees, almost a quarter (24%) used the virtual pin board as part of the marketing mix, compared to 19% at those with fewer employees.
But a higher proportion of smaller firms planned to go on Pinterest -- at 30%, compared to 6% of large firms....
[Though Pinterest isn't for every brand or comm program, survey still surprises me - JD]