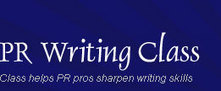 Good writing rests on two things: content and structure. Content - knowing what it is you want to say - comes first. Just as important, though, is structure: the words you choose and the way you build the sentences they are in.
PR relies on clarity. You want your key message to cut through the clutter that surrounds us all. The tool below will help deliver your message. Use it to keep refining your sentences and the words you use in them.
The key score is Flesch Reading Ease. It uses algorithms to compute how easy it would be for someone to quickly read and grasp most of you want them to know. Flesch scores range from 0 to 100. You want a high score. Your key message should score at least an 80. Your lead should score at least a 75. Your entire document needs to be at 60 or above.
If you don't hit these scores it means your message is likely shrouded in a bit of a fog. You've failed to clearly and concisely deliver the message someone is paying you to deliver....
[Cool free tool - Flesch Reading Index. Just cut and paste your copy. Rewrite and retest as needed. - JD]