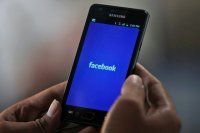 Facebook is increasingly trying to get into the news business through the back door.
No longer content to hook up friends with other friends, the company is pursuing its own hookups—with television networks that can provide a steady flow of topical information to its massive base of customers.
But analysts say there's more to these joint ventures. With traditional media struggling to keep an audience and Facebook facing continuing issues with its sagging stock price and the need to retain users, the partnerships might be less a new-media tool and more a means of survival.
Mark Zuckerberg's company has cut four separate partnerships with media organizations this year. In January, NBC and Facebook held a joint GOP primary debate in New Hampshire. During the primaries, Politico partnered with Facebook to mine user data to analyze voter behavior. Earlier this month, CNN joined Facebook to create an "I'm voting" app and conduct state-by-state research for the fall campaign. Two days later, the social network announced a similar partnership, with NBC Sports, for Olympics coverage....
[Maybe if they cure their terrible design and interface I'll believe - JD]