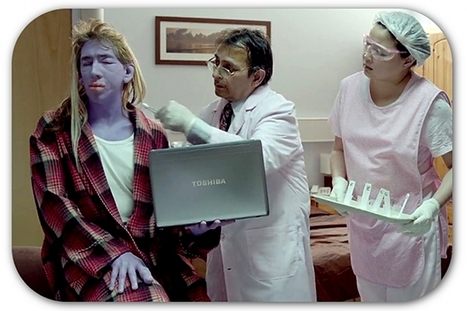 Toshiba's latest ad campaign portrays medical test subjects as freaks, an approach that puzzled the Association of Clinical Research Organizations.
Although most consumers know Toshiba as an electronics company, part of its business in the U.S. is the manufacturing of diagnostic and medical imagining equipment.
In fact, Toshiba American Medical Systems is looking for young people—ages 6 months to 18 years of age—to participate in a study to improve the MRI experience, according to ClinicalTrials.gov.
Yet a Toshiba ad campaign for its Satellite Ultrabook computer portrays people who take part in clinical trials as freaks. A young man—only slightly older than the people Toshiba Medical Systems seeks for its MRI study—is cast as a "professional medical test subject." During the 30-second commercial, he is subjected to bizarre experiments that turn him into a purple-faced monster. At one point he refers to the subjects of clinical trials as "test monkeys."...
[A lame ad that won't sell many computers and as a benefit offended an influential group of scientists. Dearth of real creative these days IMHO - JD]