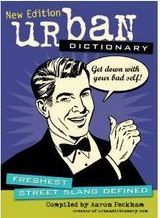 This July 4th post is a bit of fun for PR pros, craft bloggers, storytellers and any other writer who is a passionate word lover.
A great way to enjoy a little downtime on this Independence Day or any other holiday. Two cautions. You may become infatuated and even addicted to this smack resource. And it's not always office cromulant.
I'm talking of course about the Urban Dictionary. With more than 45,000 words, it's an indispensable tool and a wonderfully quirky source of inspiration though sometimes profane, arcane and inane. Perfect for whiling away a coffee break and impressing friends with your new, urban vocab....