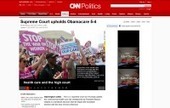 Lessons learned from CNN's mistaken report of the health care ruling.
...The example piles one more failure on top of news organizations that refuse to vet the facts before reporting them live. As I sit here at this moment, my inbox is clogged with news repeating CNN's mistake. Not a single source has yet to retract.
What's there to learn from this morning's incident?...
[3 valuable media relations lessons - JD]