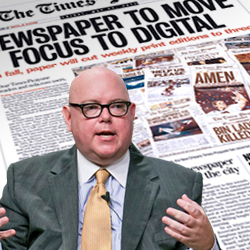 ...What we are witnessing today is the exodus of publishers that owned newspapers for high profitability and the emergence of publishers that have different ownership motives. There are many reasons to own a newspaper; a 30% profit margin is not the only motivation. This has been true since the first daily newspaper was published 367 years ago.
What we have today is the slow-motion, excruciating transition of the newspaper industry to the "newsmedia industry." There will be many New Orleans stories in the months and years ahead. We will learn lessons, good and bad, from those making the first steps today.
New ownership will create an American market of experimentation that has not been seen before on this scale. It is exciting ... and scary.
Stare through the hyperbole to understand the meaning behind these changes.