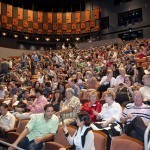 Being fresh and telling the story no one else has told are two ways you can recapture your audience's attention. John shows you how.
By now you already know how powerful storytelling can be for your nonprofit. Storytelling enables you to connect the dots in your constituent's hearts so that they take action on their terms, and share that story with their friends.
But even the best stories get old if they're simply repeated over and over again. They begin to lose their ability to touch people on an emotional level. And it really becomes a problem when you aren't feeling it anymore....