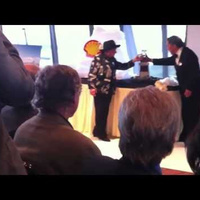 If this video of a PR disaster at a private party hosted by Shell Oil atop of Seattle's Space Needle last night seems too good to be true, that's because it is.
The video is a hoax, but a very good one!
The story went that this video was shot by an Occupy Wall street protester named Logan Price who infiltrated a private party called "New Frontiers" thrown by Shell to celebrate the impending expansion of offshore drilling operations into the Arctic. Shell set up a replica of the Kulluk oil rig that will be doing the drilling and invited the widow of the man who designed the rig to symbolically "tap the arctic" and fill her glass with liquor poured from the top of the model rig. But, whoops, the pump malfunctioned and spewed all over her. Now that's symbolism!
"if Shell can't even handle a three-foot replica of a rig that pumps booze, how is the company going to fare in the Arctic deep?" laughed Tree hugger. The story was also picked up by the Seattle Post Intelligencer, Gothamist and our geeky cousin Gizmodo.
[Badvocates target Shell in a hoax that keeps on giving. Wonder if it is truly effective? - JD]