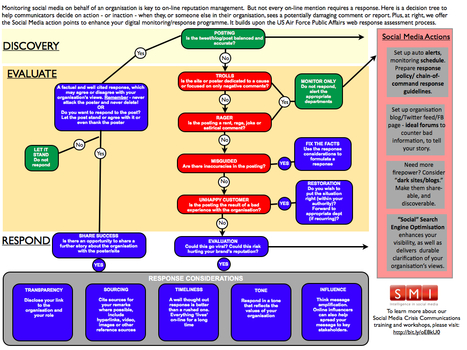 Major companies and organizations are investing in social media monitoring to protect their brand's reputation. After all, nobody wants a customer gripe to go unnoticed and turn into a viral PR nightmare.

It's sound planning, a smart investment. But social media monitoring software is no panacea. Reputation monitoring, or e-reputation if you will, very much requires the human touch.
Here is a decision tree developed by SMI to help you and your team think through and respond (or not!) to potentially reputation-damaging posts made by the public. We adapted this decision tree from the U.S. Air Force's brilliant web posting response assessment protocol developed for its communications staff on how to prioritize and respond to potentially damaging online posts.
[Thanks Chris Syme for sourcing this story - JD]