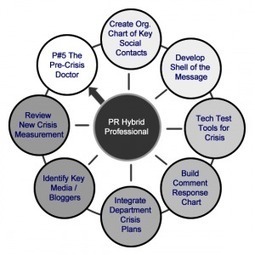 One of my favorite new practices, which is outlined in my book, Social Media and Public Relations: Eight New Practices for the PR Professional, is PR Practice #5: The Pre-Crisis Doctor.
As a Pre-Crisis Doctor, it's your responsibility to catch the negative sentiment, at a point when you're able to react swiftly. You should have several resources in place, which includes everything from your company's social media crisis organizational chart and the shell of the message to your measurement tools and key influencers to help keep the public updated with the most recent information.
Here's how the responsibilities break down in your new practice...