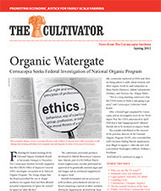 Damage Control PR by Kellogg Division under the Microscope
Cornucopia, WI – A photo of a sign explaining why Kashi cereal products were pulled from the shelves of a natural foods retailer has sparked an angry consumer backlash aimed at Kashi for its use of suspect cereal ingredients.
The sign appeared in the aisles of the Green Grocer, based in Portsmouth, R.I. Owner John Wood read a report from The Cornucopia Institute, Cereal Crimes, that detailed the use of GMO grains and the presence of pesticide residues found on conventional grains that were then packaged as "natural" cereals for sale, by Kashi, to health-conscious consumers. Kashi, one of the nation's leading "natural" brands, owned by Kellogg, was one of the brands featured in the report. Cereal Crimes contrasts the natural cereals with certified organic cereals which prohibit genetically modified grains and synthetic pesticides in organic food production....