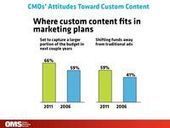 Social media, social media, social media!
...Jonathan Mildenhall, VP Global Advertising Strategy and Creative Excellence at Coca Cola recognizes the need for more content when he said,
"All advertisers need a lot more content so that they can keep the engagement with consumers fresh and relevant, because of the 24/7 connectivity."...