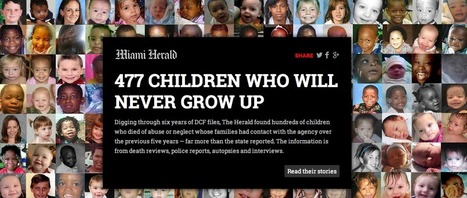 "Innocents Lost" tells the story of 477 children killed during the past six years by their parents, by their parents' significant others, by neglect, by drugs, by abuse. But it also tells the story of a system that each one of those families came into contact with before dying.
They tumbled into canals and drowned, baked in furnace-like cars, were soaked in corrosive chemicals, incinerated, beaten mercilessly, and bounced off walls and concrete pavement. One was jammed into a cooler posthumously; others were wrapped like a mummy to silence their cries, flattened by a truck, overdosed and starved. An infant boy was flung from a moving car on an interstate. A 2-year-old girl was killed by her mom's pet python.
The children were not just casualties of bad parenting, but of a deliberate shift in Florida child welfare policy. DCF leaders made a decision, nearly 10 years ago, to reduce by as much as half the number of children taken into state care, adopting a philosophy known as family preservation. They also, simultaneously, slashed services, monitoring and protections for the increased number of children left with their violent, neglectful, mentally ill or drug-addicted parents....