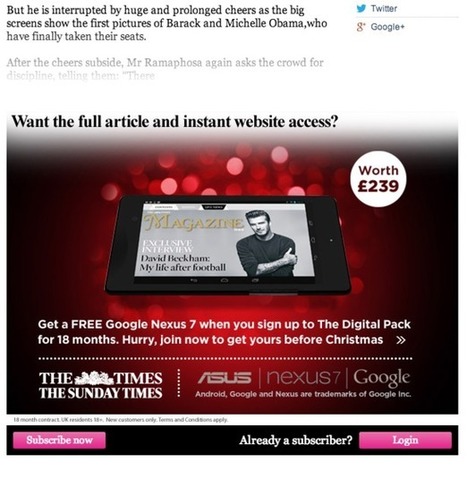 If one of the things we've learnt so far within digital marketing is that becoming more social is a key ways to succeed, does the installing of a paywall on newspaper run websites effectively mean 'killing' their shareability?...
I'm very much in two minds about this.Journalists, bloggers and writers can't be expected to write quality content for free, and if revenue isn't coming in from other sources, then why shouldn't they get behind a paywall business model. We need food and shelter too.
However this still isn't an ideal solution as I want as many people to read my material as possible, and if I can't share it via social media, this severely limits my reach as a writer.
The comment above about 'owing the reader the article' really does stick in my craw though. Why would anybody feel that they are owed something just because it's online? Are we so used to having everything online for free that we react with indignation when it isn't? Clearly we're used to over a decade of multiple blogs, YouTube videos and music streaming services spoiling us with content...