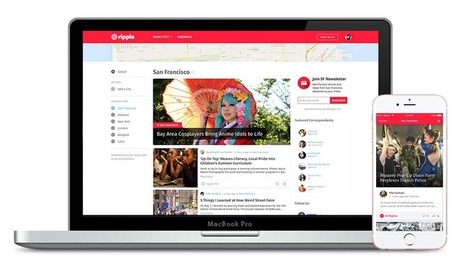 From LocalLabs to GoLocal24 to Everyblock, hyper-local news startups have consistently collided with foreboding economics: Narrow audiences tend to be small audiences, and small audiences are hard to monetize.
But Ripple founder and CEO Razmig Hovaghimian, who previously made splashes with Embrace and Viki, thinks his latest project could build a more successful business model for hyper-local news — and several heavyweight funders are buying in.
"I want [Ripple] to be a platform where storytellers get not only recognition and satisfaction from it, but compensation as well." -Razmig Hovaghimian
EarlIer this month, Hovaghimian and his six-person team launched Ripple, a hyper-local news app that uses geo-location technology to help users discover the stories closest to them. Backed by Greylock Partners, Knight Foundation, MIT Media Lab director Joi Ito and other funders, Ripple has now launched in ten cities, including San Francisco and New York, and Hovaghimian says more locations are coming soon.
source of enthusiasm for Ripple is two-fold: First, by combining geo-mapping technology with a voting system that allows stories to "ripple out" to a wider audience, Ripple creates an opportunity to produce hyper-local news at scale — a big step toward business viability....