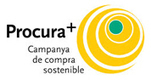 The web portal comprasostenible.net begins its journey

Ecoinstitut has launched the web portal comprasostenible.net, an entry point where Catalan public authorities can find their way to the most relevant resources available to safely implement SPP in the region.

The portal provides responses to the main questions of concern for decision-makers and practitioners for the introduction of socio-environmental concerns in public procurement – such as: if it's legal, if it's more expensive, if there are resources and support structures to help in the process, etc.

It does so by providing information and pointing to key resources from relevant organisations. Among others you can find:
Arguments to support SPP at the decission-making level,Useful resources and support structures to implement SPP in al its facets, specially for the introduction of sustainability criteria in tendering processes,Repositories of products and services with socio-environmental attributes to know a bit better the market, orGood examples and practices to learn from others.
Almost all the resources are in Catalan or Spanish to minimise language barriers to SPP, and it will be expanded periodically to cover new and relevant information, materials and examples that appear regularly.

The portal has been developed thanks to the EU-funded project GPP2020 and will be kept up-to-date even after the end of the project as a permanent suport structure.

To reach it, just go to: www.comprasostenible.net