Scoop.it!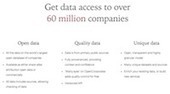 Free and Open Company Data on millions of companies and corporations in over 20 countries, including UK, Spain, US, ...
luiy's insight:
What is OpenCorporates?
OpenCorporates aims to do a straightforward (though big) thing: have a URL for every company in the world.
Is that all?
Well, no useful though that would be, we're also gradually importing government data relating to companies, and trying to match it to specific companies
Why do this?
Few parts of the corporate world are limited to a single country, and so the world needs a way of bringing the information together in a single place, and more than that, a place that's accessible to anyone, not just those who subscribe to proprietary datasets. See also the OpenCorporates Principles
There are quite a few countries you're missing
We've grown from 3 territories and a few million companies to over 75 jurisdictions and 55 million companies, and are working with the open data community to add more each week.
How can we get hold of the data?
We have a new API service, as well as our highly popular Google Refine reconciliation service (seedocumentation), and this allows access to the information as JSON or XML. If you need data in bulk, either for academic research work, for another cool open data project, or commercially, drop us an email atinfo@opencorporates.com.