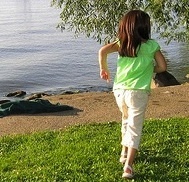 A new study confirms what many parents know well: Wandering by children with autism is common, dangerous and puts tremendous stress on families.
Using parent surveys, the researchers found that nearly half of children with autism spectrum disorder (ASD) attempt to wander or bolt from a safe, supervised place. More than half of these wandering children go missing – often into dangerous situations. Importantly, the researchers found evidence that autism-related wandering does not stem from inattentive parenting. It also found that half of all parents had received no help or guidance on how to deal with the problem.
The study appears online today in the journal Pediatrics. Autism Speaks funded the research through its support of the Interactive Autism Network (IAN), an online project bringing together families affected by autism.
Via
Stewart-Marshall