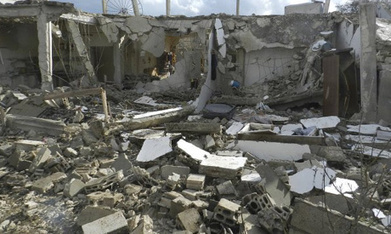 'Syrian activists fear a new ground assault on Damascus suburbs where military reinforcements poured in hours after tripartite talks between the US, Russia and UN on the 21-month conflict.
Syria's army sent reinforcements to a rebel town near Damascus as clashes raged south of the capital Friday, hours after talks on the conflict between the US, Russia and UN ended without a breakthrough.

Meanwhile, UN chief Ban Ki-moon was due to visit Syrian refugees in Turkey before meeting in Ankara with President Abdullah Gul and Prime Minister Recep Tayyip Erdogan, key backers of the revolt against President Bashar al-Assad.
Inside Syria, activists feared a new ground assault on Damascus suburbs where military reinforcements poured in, said the Syrian Observatory for Human Rights.'
Read more:
http://english.ahram.org.eg/NewsContent/2/8/59986/World/Region/Assault-on-Damascus-suburbs-feared-amid-raging-vio.aspx