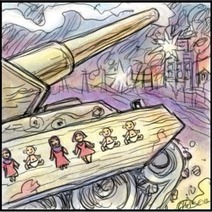 Four new studies on the health crisis in Fallujah have been released in the last three months. The studies suggest babies are dying of wounds from a war they never saw. That this epidemic is the legacy of toxic weapons dispersed in this community in the ferocious attacks by US forces in 2004.
At the UN First Committee vote held earlier this month, which will be ratified by the General assembly this week, 138 nations voted in favour of the resolution seeking greater transparency and a precautionary approach in the use of depleted uranium (DU) weapons, known to be radioactive and chemically toxic. Four nations, the US, France, Israel and the UK, all users of DU weapons, voted against the resolution and pressured other nations.
Australia abstained, isolating itself from the majority of nations and blatantly breaching the admirable 'Australian agenda' which emphasises arms control, nuclear non-proliferation and women's rights. This leaves Australia in an awkward position ahead of taking up its temporary position in the UN Security Council.