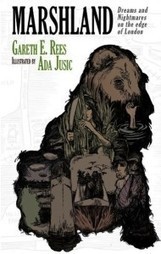 Hackney Marsh: a place of illicit raves, time-travelling dandies, scary cults and grizzly bears, at least according to psychogeographer Gareth Rees. He blurs the line between fact and fiction like an explorer who's sipped liberally from his hip-flask before falling asleep in a pocket of marsh gas. But here's the thing: it works. Gloriously. This idiosyncratic bumbleburst of local history, folklore and informed creativity captures the marshes as vividly as any book ever could.
Gareth not only knows his terrain intimately, but also wants to share it in plain language that never takes itself too seriously. Given some of the conceits of the book, which plays fast and loose with fact, style, time and credulity, this could easily have deteriorated into an exercise in look-how-clever-I-am. It never does, because Gareth is a thinking, drinking, cocker-spaniel-walking man with his feet firmly on the ground (except when he's dangling over the bank of the Lee Navigation to rescue said cocker-spaniel).
This is first-class writing that slithers between genres like an eel in a library. One day, all books will be written like this.