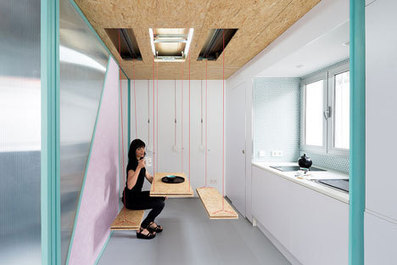 The resident of a compact apartment in Madrid demonstrates how she can rearrange walls and pull furniture out of the ceiling in a movie by photographer and filmmaker Miguel de Guzmán.
Designed by Spanish studio Elii Architects, the Didomestic apartment occupies the loft of an old building, so it was designed to make optimal use of space by creating flexible rooms that can be adapted for different activities.
The architects also added several fun elements to tailor the space to the resident's lifestyle; a hammock, playground swing and disco ball all fold down from the ceiling, while a folding surface serves as a cocktail bar or ironing board.
View more images and the film at the link.
Via
Lauren Moss