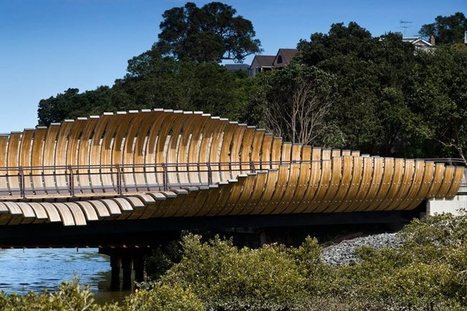 When North Shore City Council engaged Beca Architects to design the Onepoto Footbridge on Auckland's North Shore, they wanted a functional structure for pedestrians and cyclists to cross safely, but at the same time offering a unique experience for users by incorporating architectural elements into the bridge to create interest, and to blend it into the surrounding landscape.
The underlying structural concept of the bridge is a conventional two span, pre-stressed concrete beam footbridge, disguised cleverly by integrating with the architectural cladding. Designed to simulate a breaking wave, it reflects the overall vision of the bridge to recreate a journey across the Onepoto stream.
Measures were taken to preserve the sensitive coastal environment, protect native trees and wildlife, and preserve the old historic bridge in both the design and during construction.
Via
Lauren Moss