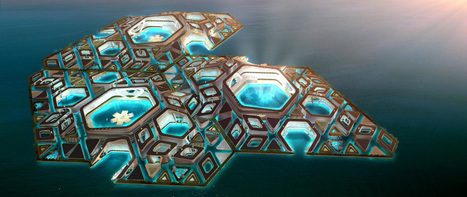 Floating cities are nothing new. In the early 1960s, Buckminster Fuller designed a city – Triton – that was intended to float off the coast of Tokyo Bay. It was later considered but never commissioned by the US government.
"Three-quarters of our planet Earth is covered with water, most of which may float organic cities," Fuller explains in his book Critical Path. "Floating cities pay no rent to landlords. They are situated on the water, which they desalinate and recirculate in many useful and non-polluting ways."
Fifty years on, with heavy pollution causing climate change and rising sea levels, Fuller's floating city concept is being seriously considered as an antidote to those problems.
Via
Lauren Moss