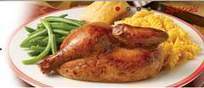 In what has become a rite of spring, a host of freebies are being offered Tuesday for Tax Day in hopes that consumers who come in to collect the free stuff stick around and spend money on other things.
This year's twist: Many are prodding consumers to first "like" them on their Facebook pages to enter and print free coupons there.
◆ Arby's will hand out curly fries. (Requires coupon.)
◆ Chili's offers a free appetizer or dessert. (Requires coupon.)
◆ Panda Express will hand out free servings of its new Shanghai Angus Steak. (Must "Like.")
◆ Cinnabon will give out two free Cinnabon Bites per customer (6-8 p.m.).
◆ Boston Market's got a free meal for those who buy another meal and a drink. (Requires coupon.)
And here's a non-food deal that might be appreciated by last-minute filers: Office Depot offers free copying of up to 25 pages.