Scoop.it!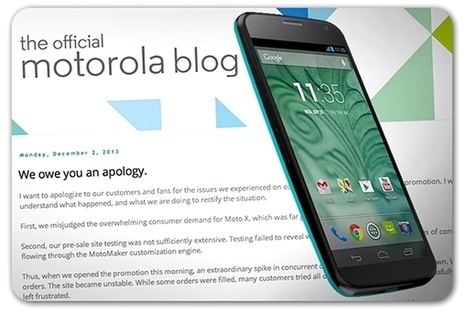 The CEO apologized for the website crash, and the company has scheduled two makeup sale days—today and Dec. 9.
Haley Evans's insight:
The Motorola company dealt with a crisis this past Monday. Every year the Monday after Black Friday is Cyber Monday. The Motorola website was having a huge sale. They were offering a an unlocked Moto X phone for $150 less than retail. The problem was that the sale was so popular that the website crashed from too much usage during the huge sale on Cyber Monday. The CEO of Motorola, Dennis Woodside made a statement on the company's blog and twitter. The CEO statement said, "An extraordinary spike in concurrent orders caused our website to go down. We couldn't fulfill orders. The site became unstable. While some orders were filled, many customers tried all day to place their orders unsuccessfully. Customers were left frustrated." This relates to The Adventure in Public Relations book in chapter 13. The authors discuss that it is important to be prepared and address stakeholders needs. The company was prepared by having a back up plan ready to go if there was a problem on cyber Monday.
The author's also discuss that it is important to speak with one voice. The company did follow the ideas of the book because they chose the CEO to be their main speaker. It was important that they did this because they were able to address the public in a clear and concise manor. If the company had many people from the their offices speaking on the matter than words and statements would have been confusing. The statement was also a good idea because it was sent out in a fast and appropriate time. They were on target and point with their statement and posted it in a timely manner. The company explained to the consumers what had happened on Monday and why there was a crash in the system. They also took full responsibility for the crash. Most importantly they sent out a formal apology in this statement which is something the public likes to see.
One thing that I really liked that the company did was what they did on the following Wednesday. Yesterday, December 4th, the Motorola Company had a cyber Wednesday. They offered the same deals as they originally did on cyber Monday allowing customers to still order the phone for the cheaper price. I think that this was a great idea. The company took all the right steps in this crisis and seemed very prepared. They made up for the mess up they had on Monday and made it up to the customers. That gave the company the opportunity to keep their loyal consumer base.