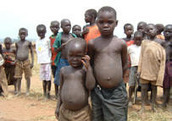 What are the major challenges facing Africa today?
The challenges facing Africa are daunting. Africa has the highest proportion of its people in extreme poverty and is not on target to meet any of the Millennium Development Goals (MDGs) agreed at the United Nations in 2000. The MDGs are:
Eradicate extreme poverty and hunger Globally, the number of people living in extreme poverty is falling, but there are large variations in progress between regions. Asia is making good progress, but there is little movement elsewhere and sub-Saharan Africa is going backwards.The world already produces enough food, but the key to eradicating hunger is to ensure that ordinary people in the developing world can get access to it and that it's affordable. Poverty is the principal cause of hunger.
Via
Sinclair Tucker