Scoop.it!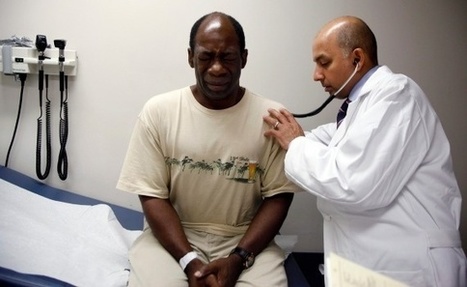 Low-income people are 27 percent more likely to be hospitalized for hypoglycemia right before paychecks and benefits come out.
Via
Flora Moon
Foo Yan Ling's insight:
This article has a say in conservatives wanting to believe that unemployment insurance makes people not work, despite evidence against this. And liberals want to believe that people don't get enough food so they start passing out from low blood sugar and go to the hospital.
This makes connection with what I know as poverty can mean not having enough money to provide one sufficient nutrients for the body by not having enough food. In this article, it emphasizes that low-income people are 27 percent more likely to be hospitalized for hypoglycemia at the end of the month. Income inequality is making them sick. This shows that not everyone is treated equally. Next, I feel that the basic yet important idea is that people struggling to make it paycheck-to-paycheck (or benefits-to-benefits) might run out of money at the end of the month—and have to cut back on food. If they have diabetes, this hunger could turn into an even more severe health problem: low blood sugar. It shows that poverty do cause people to fall ill really often. I changed my perception of poverty as it being a very severe and deadly situation, poverty is no longer something we should all ignore but instead think of ways in which we can help them. Poverty is also more about equality, without equality, salaries may differ a lot and people may not be able to afford food and might suffer from nutrient shortage and end up in hospitals, risking their lives. I would like to challenge the idea of paying out welfare, food stamps, and Social Security twice a month, instead of just at the beginning. They could even pay out food stamps as cash instead of benefits. Instead of that, I feel that the government should give poorer people more cold, hard cash so that they afford more food at the end of the month and also extra cash for visits to the hospitals or the clinics when they are unwell, especially those that suffer from illnesses as their lives are at stake. More donation drives can be set up for donating of money to support these people suffering from diabetes etc. I feel that people suffering from diseases should be well respected and taken care of no matter how short their life span may be.